Juice: Lizard Milk
Vendor/Maker: Lizard Juice – http://www.lizardjuice.com/
Info: ??/?? PG/VG – 12mg nic
Pricing: $12 for 15mL (.80/mL)
Today's vaping goodness comes from a recent order placed with Lizard Juice. I had heard good things about LJ around the forums, so I decided it was time to give their juice a try. The results so far have been excellent. Lizard Milk is described as "Mother's Milk to Vapers" on their site, and is a pina colada adaption of coconut milk, pineapple, and rum.
Liquor drink flavors, in my experience, can be very hit or miss, so I'm happy to say that Lizard Milk is dead on in its flavor. The initial inhale greets you with a crushed pineapple that is just right, and delivers a light, but full throat hit. The pineapple is a direct fruit flavor that isn't too sweet and morphs exceptionally well with the coconut milk aspect. I mostly notice the coconut milk after I've just finished inhaling. There is a faint taste of coconut, and it really seems to give the overall flavor more of a bold push toward the rum taste at exhale. Out of all the liquor drink inspired vape juices I've tried, this is definitely one of the better ones. The rum flavor has kicked in very well after about a week of steeping, and is the predominant flavor on exhale, leaving you with a nice, and slightly heavy lingering aftertaste of rum and pineapple.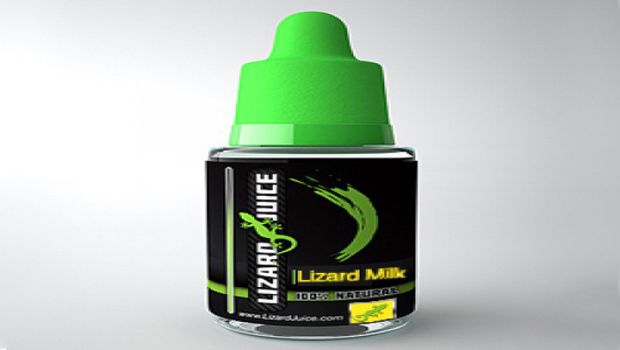 Upon first opening the package, Lizard Milk was almost completely clear in color, and with one week's steeping, has changed to a yellow color, but hasn't thickened up much at all, leading me to guess that Lizard Milk is a predominantly PG based juice. I'd highly recommend letting it steep for a bit, as the flavor really came through very well for me after a week.
For delivery mediums, my usual tanks seem to play very well with Lizard Milk overall. T3S, Pyrex DCT, and most any other bottom coil tank along this line have performed well so far. I was also kind of surprised at the amount of vapor produced, as I've been getting some decent clouds on my Tumbler tank at 4.2 volts on 2.4 ohm coils.
I'd like to comment on packaging as well. This is one of my new favorite bottle types. It's a harder plastic bottle with clean labeling, and the best part is the blunt tipped needle top, which makes filling virtually any delivery medium a breeze. Printed on the cap as well is a date of production and expiration.
Lizard Milk is a phenomenal juice, and I highly recommend it. This could definitely turn into one of your all day vapes.