Juice: Voodoo
Vendor/Maker: Lizard Juice – http://www.lizardjuice.com/
Info: ??/?? PG/VG – 12mg nic
Pricing: $12 for 15mL (.80/mL)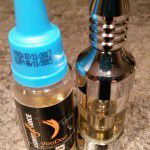 Had my second order from Lizard Juice arrive about a week ago, and have come across an excellent find. Voodoo is described on site as cinnamon, blueberry, pineapple, coconut, and a "touch of magic" as well.
Building off my last order and review from Lizard Juice, Voodoo is almost a pina colada type of juice, but the liquor flavor is replaced with cinnamon and blueberry, and done very well overall. This is a very unique flavor, and I'm normally not a big fan of predominantly cinnamon flavored juices, but here is where I'm happy to make an exception.
The initial inhale gives a subtle pineapple taste that is very close to its real life fruit counterpart, and quickly morphs into the cinnamon and blueberry flavor right after inhale. Cinnamon is the main flavor I get from voodoo and it's done just right, medium-bodied and flavorful, but not too overpowering, which really blends very well overall with the blueberry aspect. On exhale, the cinnamon and blueberry have about an equal mix, and there are undertones of pineapple as well. I'm noticing that I get a different amount of the cinnamon and blueberry taste occasionally between hits, sometimes with cinnamon taking over, and other times I feel the Lizard Juice Voodoo Bottleflavor is leaning more towards blueberry, but still being very flavorful. In my opinion, and after about 5 days of steeping, I'm leaning toward a cooling agent being the "touch of magic" as I notice a very Cool Hit type of sensation on exhale. This gives off a similar feeling of menthol, but without any of the mint taste.
For delivery mediums, I'm currently using a DBox Puritank on my SVD, with 2.2 ohm coils. Vapor production has been medium so far, but the vape itself is a very full flavor. Speaking of flavor, I feel like I'm getting better results at higher voltages, namely along the 4-4.6 voltage range. This has held true in a few different dual coil tank setups, regardless of ohm rating, so I'd recommend trying this out at a bit higher power then what you typically use.
Steeping has been helpful so far for Voodoo, and even though it's only 5 days in out of my usual two week steeping period, there has been a very noticeable change in flavor, with the cinnamon and blueberry become much more full flavored. Upon arrival, the juice itself was a very transparent light yellow color, and has darkened to a medium yellow, with some slight thickness added as well. I'm going to guess that is about a 50/50 PG/VG mix based on vapor production and flavor.
Definitely give Lizard Juice's Voodoo a try. It's different, and carries a very unique flavor that I haven't found anything similar to yet.