Juice: Set Down Delight
Vendor/Maker: Moon Mountain Vapor – http://moonmountainvapor.com
Info: 60/40 PG/VG – 18mg nic
Pricing: $7 for 12mL (.58/mL)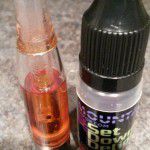 Good afternoon, vapers. Today I'm finally getting around to a vaping gem that I came across a couple months back. Set Down Delight by Moon Mountain Vapor is a very unique juice with a great, bold flavor. Described on Moon Mountain's site as key lime, cheesecake, and lemons, this is one juice you won't want to put down.
The inhale on Set Down Delight greets you with a very full flavored key lime pie, that makes a nice blending transition to the lemon flavor, while still keeping that prominent key lime pie taste. I've tried out a number of key lime inspired and themed juices, and Set Down Delight is one of the first to really give a full flavor that is on point with the taste of its real life counterpart. The lemon aspect of Set Down is a nice addition to the initial lime flavor, and really gives a great citrus mix on exhale. The cheesecake flavor is subtle, and I mostly taste it on the very end of exhaling, leaving a pleasant creamy citrus aftertaste. I feel like the cheesecake addition really gives a helping hand to the cake theme of the juice. I really can't say anything negative about flavor usage, as this is a great mix overall.Set Down Delight Bottle
When I first received my bottle, the juice was a medium orange color, and wasn't very thick. This is another case where I highly recommend steeping. After a week, the flavor started to become a bit more full-bodied. After two weeks, Set Down Delight had darkened significantly and thickened up a bit. I'm currently at about three weeks of steeping, and this juice tastes like it's reached the full potential – dark orange color, medium thickness, and bold, full flavor.
For delivery mediums, I've had my usual dual coil tanks at work again, and after steeping, I almost feel it's necessary to remove a flavor wick on most all of the ProTank style coil setups. After removing a small amount of wick (post steeping), I was getting a much more full hit with higher vapor production. Drippers have played well with Set Down Delight, including the Nimbus and Igo-W. This was made much more apparent after steeping, and you can achieve some pretty nice clouds at higher voltages.
Set Down Delight is one very unique and flavorful vape. This has become my go-to after dinner vape over the last couple weeks, and keeps on delivering. Definitely give this one a try, you'll be happy you did.
+1 for MMV stating that they're Floridians and being able to back up their claim of knowing what real key lime pie tastes like.