Juice: Astro
Vendor/Maker: Space Jam – http://www.spacejamjuice.com/ (Multiple Vendors)
Info: ??/?? PG/VG – 12mg nic
Pricing: $12-15 for 15mL (.80-$1/mL)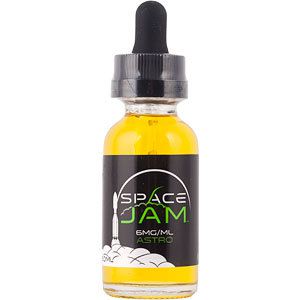 I've finally gotten around to trying out a purchase I made a couple weeks ago, and am happy to share an all-around solid fruit vape titled Astro by Space Jam Juices. I've always been a fan of a good fruit blend, and Astro does a great job of delivering. The juice is described on space Jam's site as apples and strawberries joining forces, whereas on a few vendor sites, peach is listed as well. Bonus points for the company name, as I'm reminded of a favorite movie every time I look at the bottle.
This is another fruit vape that is somewhat on the lighter side, and doesn't carry a very heavy throat hit, although there is a great amount of vapor production. On inhale, the apple is most noticeable, with a lighter strawberry undertone that gets very pronounced on exhale. I have to say that I'm in between on the peach flavor that may, or may not actually be there. Sometimes I think ok, definitely peach. And other times, I get a strong apple and Astro Bottlestrawberry mix. Either way, this is a delicious vape that leaves a very pleasant aftertaste, with the apple flavor sticking around for some time. The fruit flavors here lean more towards their actual counterpart, and less on the candy side, which to me, is a plus since I tend to wear out on overly sweet juices fairly quickly.
Vapor production has been on the medium to higher side, and Astro has thickened up and darkened in color significantly with one week's steeping. I'm going to guess, since no ratio is listed, that this juice is roughly 40/60 PG/VG. For delivery mediums, I've been using a Dbox Puritank on my SVD, and am getting nice results with a 2.3 ohm coil at 4.2 volts.
I'd definitely recommend Space Jam's Astro if you enjoy a lighter fruit vape that carries plenty of flavor. This is a new favorite for me, as it's not too sweet and the flavoring is superb.
There are multiple vendors for Space Jam's line of juices spread out across the country.