Juice: Black Mamba on the rocks
Vendor/Maker: Pink Spot Vapors via VapeCrunch– https://vapecrunch.com/
Info: ??/?? PG/VG – 12mg nic
Pricing: $9.95 for 12mL (.83/mL)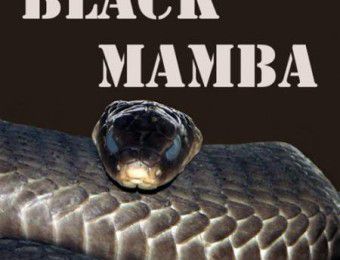 Back again with another juice from our friends at Pink Spot Vapors. Black Mamba on the rocks has made its way to my all day vape category after only 2 days of having it around. PSV's site description of Black Mamba reads "A fierce blend of multiple flavors headlined by blackberry and a smooth cranberry flavor with a splash of citrus." I picked up this juice in its "on the rocks" version, as I'm a fan of menthol, and was then told that it was more of a cool rush, so I was even more compelled to try.
After arriving home, I threw a new 2.4 ohm coil into my SmokTech Tumbler, and haven't stopped vaping since. Pink Spot's flavor description is accurate, in that I taste a mostly citrus and cranberry on the inhale, with the citrus flavor being more prominent. The inhale is very light, even at 4.4 volts on my SVD, but produces a superior amount of vapor. I've been getting clouds on my Tumbler bottom coil tank. The exhale of Black Mamba on Black Mamba on the rocks bottlethe rocks is the best aspect of this juice in my opinion. The blackberry flavor really blends very well over the citrus and pomegranate fusion on inhale, and the "cool rush" from the menthol is phenomenal. This is another one of those juices where even if you're not a fan of menthol, you'll still really enjoy this on the rocks version, as there is no mint taste, but instead, a very cool sensation that leaves a pleasant clean feeling with a hint of blackberry and cranberry aftertaste that lingers around for some time.
In terms of delivery mediums, I can't really comment much to other device usage, as I've only tried out Black Mamba on the rocks in the SmokTech Tumbler. The juice itself, although new, is almost completely clear in color, and has a thin consistency, leading me to guess that this is more of a PG predominant juice, and based on vapor production, at most 50% VG.
Honestly don't think I can say enough good things about this juice, as it's fruit flavors are just very well done, with no aspect being overpowering or lacking, and I highly recommend the "on the rocks" version of Black Mamba, as it really gives a full, and clean flavor. I highly doubt I'll tire of this juice any time soon and recommend it to all vapers.
I try to include all sources in my posts, so below I've posted links to the juice on Pink Spot Vapors' site, as well as a link to 3lixir's, which is the retail shop I purchased from in person.