Juice: Dragon Dew
Vendor/Maker: Vaperite – https://www.vaperite.com/
Info: 50/50 PG/VG – 18mg nic
Pricing: $9.99 for 18mL (.55/mL)
Vaperite's Dragon Dew is a juice that I've been meaning to post on for a while, and am finally getting around to it. This is one juice that is very unique and has been a personal favorite for some time now. I think I'm on my 3rd bottle within the past year. Dragon Dew is described as "A smooth dragonfruit blend mixed with the taste of our citrusy dew drop flavor." I was originally a fan of both components of Dragon Dew, which consist of Smaug's Horde(pomegranate & dragonfruit), and Dew Drop(Mtn Dew), so needless to say, I was definitely giving the blend a try.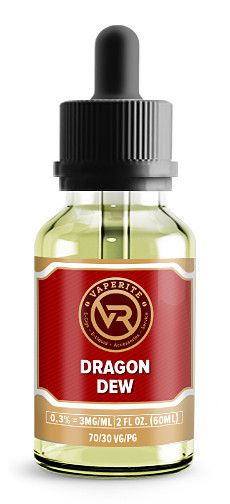 The initial inhale is that of a cool dragonfruit, and this is where I feel the Dew Drop flavor really hits best. The dragonfruit aspect is most prominent, with a very noticeable, but not overpowering citrus undertone, that really gives a nice cooling sensation upon inhale. The exhale of Dragon Dew absolutely shines, and brings in a nice transition to the pomegranate flavor, while still keeping that great citrus undertone. I had found early on that whileDragon Dew Bottle I really enjoyed Smaug's Horde by itself, it just felt a bit overpowering at times, so this blend with Dew Drop really gives a nice mellow flavor overall. The aftertaste leaves you with a blend of dragonfruit and pomegranate, and leaves a very clean feeling.
I've run Dragon Dew through a myriad of delivery mediums. My best findings have come from that of an iClear 30, Vivi Nova V8 & V9, as well as Octopus and Nimbus drippers. Through steeping, Dragon Dew has thickened up considerably, and did occasionally clog some bottom coil tanks. I would highly recommend this juice as a dripper, and I'm getting some very nice vapor production on my nimbus, with a single quad wrapped coil at 1.8 ohms and vaping at 4.6-5 volts on my SVD.
Overall, Dragon Dew is one of my favorite blends from our friends at Vaperite. Definitely give this one a try, as it's a phenomenal unique juice, and I honestly think anyone would be a fan.